Introduction of Launch X-431 diagun Multi-language Full Set Lifelong free update 3 years warranty
2015-09-09 01:31:00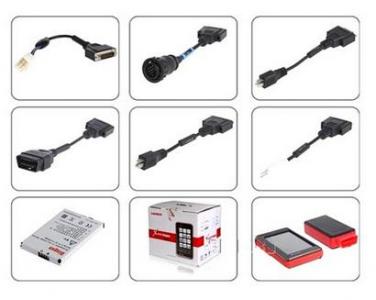 Support for many language: English, German, French, Russian, Spanish, Portuguese, Chinese Japanese
BLUETOOTH connectors: Two vehicles can be scanned at the same time via the BLUETOOTH connectors suppliedlaunch x431 diagun: At a lower cost than X-431, everyone in your workshop can have one - no waiting around for people to finish with the only scanner in the workshop - increase your efficiency!
With a 1GB SD memory card it can store extremely large amounts of data.
What features does it have?
1.Reads / erases fault codes
2.Scans engine
3.Turns off service lights
4.Scans auto transmission
5.Turns off SRS airbag lights
6.Turns off ABS lights
7.Live data stream
8.Daily software updates via email/CD download for lifelong time!
9. Compact main unit, Standard equipment for technicians
10. The only diagnostic tool which can work on two vehicles at the same time
11. Bluetooth technology, wireless communication. 100 m bluetooth communication,Cable communication support
12. Greatly improved program running speed
Product parameter:
1.Operating System: WIN CE 5.0
2.CPU: 400 MHz ARM9
3.Memory Card: 1G TF
4.Main Unit: Universal Serial Bus/USB
5.Main Unit Power: DC5V
6.Printer Interface: USB
7.Display Screen: 480X272, 4.3-inch LCD with touch
8.Rechargeable Battery: 1530 mAh
Tips for x431 diagun Update :
Here is the link to update the product,also you will find more useful technical support !! www.360diag.net
Please do remember to save your old diagun file to a safe place before you update.After you download the newer file, you only need to replace the "GAG"file .( we will send the update software link to customers' email. usually 1-2 times per year. All our software are free , no need to pay any fees, life time free!) x431 diagun English user manual is in PDF file.
Multi-language, Full Set, Lifelong free update, 3 years warranty
« Back